Frequently Asked Questions
What is the OZ Minerals selection process?
OZ Minerals is committed to attract and select the very best people through open and transparent recruitment processes. Selection decisions will be fair and equitable and will be based equally on job-related competencies and cultural fit through our How We Work Together principles. We believe a diverse workforce continually improves our capability to deliver outcomes and at the same time provides a rewarding workplace for our people.
As a candidate, you could expect the following process:
1. Online application
All applications must be submitted on-line. We do not accept any applications emailed or posted to our office. During this process you must complete the on-line application form and upload your resume and covering letter.
2. Short listing
Short listing of candidates will commence once the job has closed. Applicants will be short-listed against the selected criteria attached to the position description.
3. Phone interviews
Brief phone interviews and/or video interviewing will be conducted with the short-listed candidates to determine cultural fit and assess technical competencies.
4. First round and or site interviews.
Candidates who progress through to face to face interviews will be interviewed by the direct manager. The interviews will be either on site or at another location, depending on timing of interviews and availability of flights to site.
5. Behavioural interview
This is a crucial part of our recruitment process, as we value not just What our people do, but How they do it. For candidates we assess their 'fit' for OZ Minerals through an informal behavioural discussion exploring our How We Work Together Principles. Please see our Why Work for Us page for more details on our How We Work Together Principles.
6. Pre-Employment Assessments and Checks
- Reference Checks
- Australian Federal Police check
- Medical Assessment (medical, functional assessment and drug and alcohol testing)
- Numeracy and literacy testing (for selected entry level roles)
- For some roles, psychometric testing
7. Job Offer
Will my application remain confidential?
We only discuss your application with recruitment consultant, hiring managers and employees involved in the hiring process. When it comes to a site interview, you must be aware that you will meet other team members at the site. We will not contact any referees unless agreed by you.
How do I become an OZ Minerals employee with no mining experience?
Research what qualifications and skills you need to fulfil the role you'd like to apply for and have a look at the position description. Think about your own value proposition and what you could bring to OZ Minerals that is different and sets you apart. Information on our website will help you understand the culture of our organisation and the importance of our How We Work Together principles. You should be aware that a police clearance and a medical is part of our recruitment process.
How does OZ Minerals support Aboriginal people and local communities?
The relationship between OZ Minerals and the traditional owners of the land where we operate is critical to the long-term success of our operations.We seek to create sustainable benefits for the regions around our assets. As part of our commitment to diversity, local and Aboriginal and Torres Strait Islander peoples are encouraged to apply for positions and tender for business opportunities with our assets.
OZ Minerals runs cross cultural awareness programs for all employees, including contractors. The programs are run by traditional owners of the land and focus on building understanding through educating people about Aboriginal culture, including their beliefs, connection to the land and areas of cultural significance.
These programs are an important part of creating an inclusive, supportive culture at OZ Minerals.
How long will the position be open for?
Most roles advertised will close after 2-3 weeks of opening. Once a position is closed, you are not able to apply via the website.
Can I talk to someone in HR or recruitment?
Due to the number of enquiries we receive daily, we do not take enquiries over the phone. If you have direct questions, you can send an email to careers@ozminerals.com and someone from our team will reply within a few days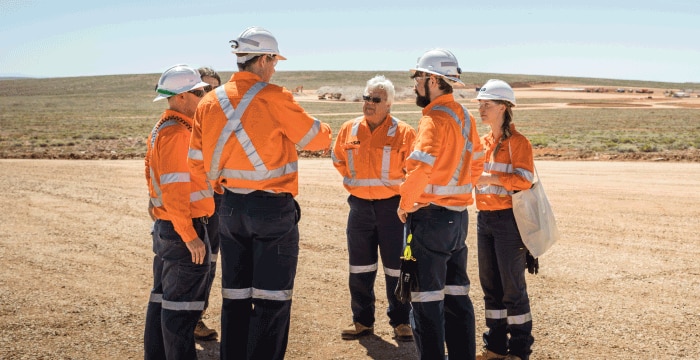 Join our Talent Community
Not registered but like what you see? Set up a profile and apply to join our team